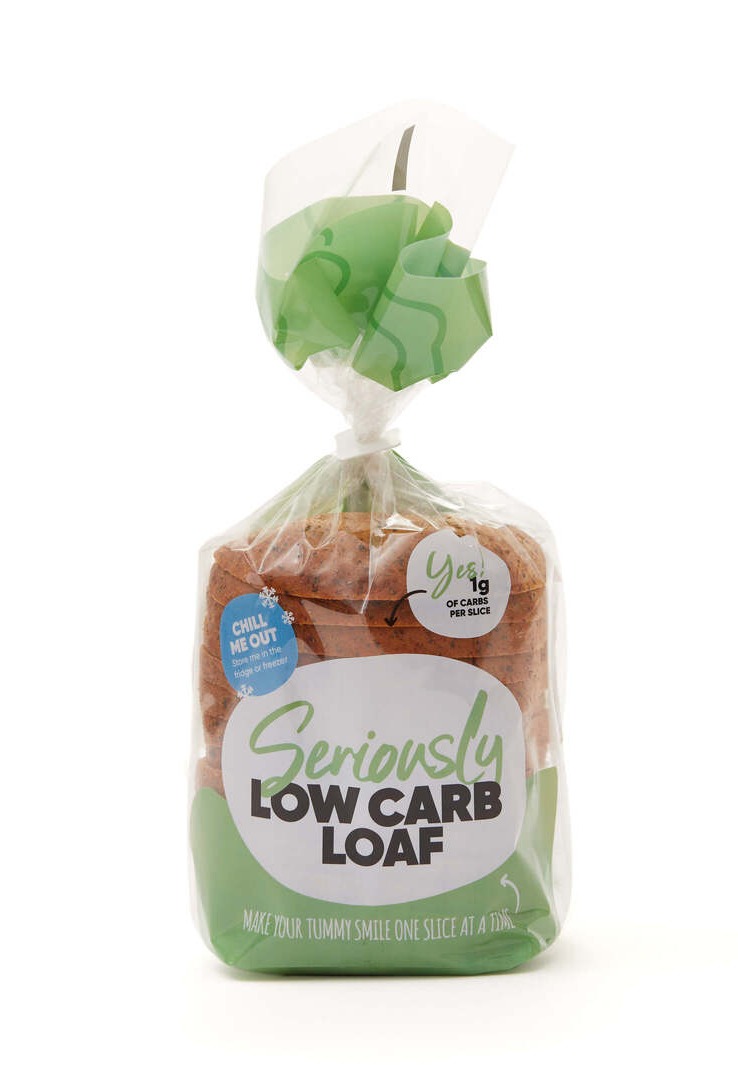 Look after your loaf
We know that you love our low carb loaves and rolls, so we want to help you to keep them as fresh as possible for as long as possible. Our loaves and rolls are a fresh, perishable product but they are a little different to standard bread so they are at their best when they are cared for in their own way.

Just follow our simple step-by-step guide to keep your loaves and rolls nice and happy, and that will make sure that you get a good 5 days of freshness!
Low carb foods have a higher protein and fat content than their carby equivalents, and both proteins and fats like to be kept in the fridge. Our loaves and rolls both love to chill out in the fridge, and the sooner you can unpack them from their box and get them in the fridge, the better... especially when the weather is a little warm outside.

We know that you might be used to storing bread at room temperature on your worktop or in a bread bin, but you will get more life from your loaf by chilling it. And we know that we all get told not to chill bread, but really - low carb loaves and rolls thrive on it! 
2. Eat it within 5 days... 
Our loaves and rolls are at their best if you eat them within 5 days of them arriving with you. That way you'll get the best possible crumb and crust texture. If you follow our storage instructions your products may well last longer than 5 days, but it's at its absolute best in those first 5 days.

If you weren't planning to eat the whole loaf or a full pack of rolls within the first 5 days of them arriving with you, then why not freeze it?
Our loaves and rolls love to chill out in the fridge so it's no surprise that they freeze brilliantly. If you're going to freeze them, it's best to do it on the day that they arrive. Take them out of the box they're delivered in and pop them straight in the freezer. Our products keep beautifully in the freezer for up to 3 months, especially if you keep them in the bag they arrive in and keep that bag sealed.

When you're ready to eat them, you can defrost them in the fridge for 24 hours. If you're like us though and you forget to take them out of the freezer, you can always toast slices of bread straight from the freezer. We also love defrosting rolls in the oven - just wrap each one in foil and pop it in the oven at 175C for 15 minutes. Makes the perfect bacon sarnie on a Saturday morning!
4. Look at the best before date 
We include a best before date on every product we send out. For loaves and rolls, the best before date means that they are best eaten before the date on the bag, but do not fear - it's not an expiry date! The best before date is our promise to you of minimum durability, minimum freshness (assuming you follow the instructions on the bag to keep it in the fridge). 

Even after the date has passed, you may still be able to get some life out of your loaf. It may not be as perfect as it once was, but it still makes great toast. We love making breadcrumbs to go on top of cauliflower cheese! 
5. Problem? Let us make it better 
We always ship with a nice long shelf life on our products so they should arrive to you in perfect condition, but if they get held up in the post, just get in touch and we can make it better for you. Because we want it to be right.