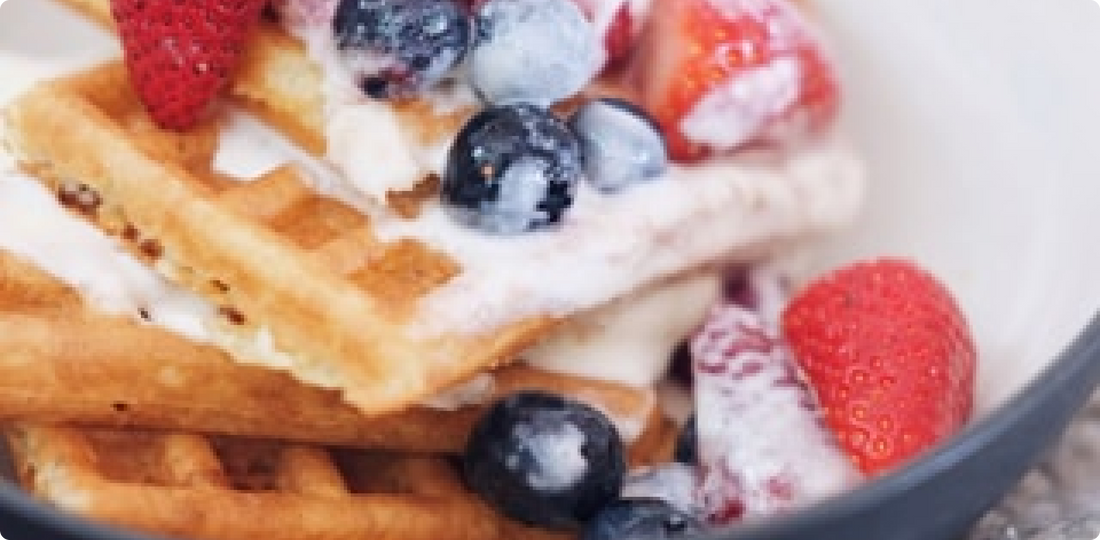 3.7g Net Carbs per serving
4 serves (6-10 waffles)
1 hour 30 Mins prep time
10 to 1 hour 30 Mins cooking time
These light, fluffy waffles are made with coconut flour so they are perfect for a breakfast and brunch treat. We love them with thick greek yogurt and a handful of blueberries.
Low Carb
Lazy Keto
Clean Keto
Gluten Free
Vegan
Ingredients
8 Large eggs
115g melted unsalted butter
65g Coconut flour
60ml Coconut milk
1/4 tsp Salt
1/4 tsp Baking powder
Nutritional Information
Per 100g
Per 41G serving
Energy

1439KJ

346kcal

590KJ

142kcal

Fat
31g
13g
of which saturates
16g
6.4g
Carbohydrate
9.0g
3.7g
of which sugars
6.6g
2.7g
of which polyols
0g
0g
Protein
6.5g
2.7g
Fibre
0g
0g
Salt
0.52g
0.22g
Net Carbohydrate
9g
3.7g
Method
Preheat your waffle iron to the desired temperature.
Break the eggs into a large bowl and beat with an electric hand mixer until the eggs are light and fluffy.
Slowly pour the melted butter into the eggs while still mixing.
Add the coconut flour, salt, baking powder and coconut milk to the bowl.
Mix with your electric mixer on a slow speed for about 45 seconds until the batter thickens up.
Ladle the batter into your preheated waffle iron and cook until golden and crisp. Serve immediately.