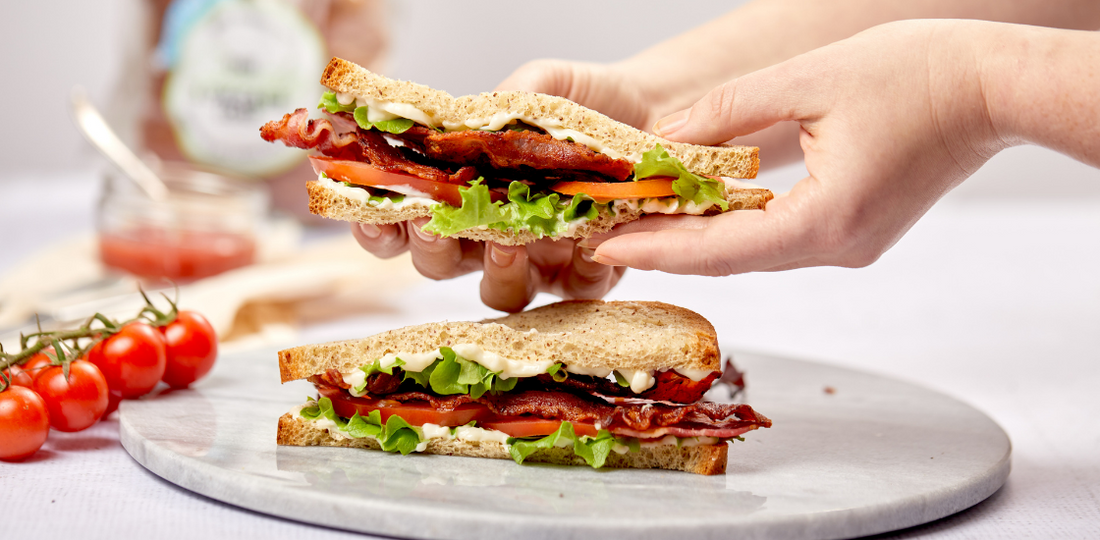 2 Net Carbs per serving
1 serving
10 minutes prep time
20 minutes cooking time
The Ultimate Low Carb BLT
Missing out on the classic BLT sandwich ? Not anymore. With our Seriously Low Carb loaf and this simply recipe, you can eat your way through as many BLTs as you like, knowing it's low carb.
Ingredients
2 Slices of Seriously Low Carb Loaf
4 Rashers of smoked bacon
1 Tomato, sliced
2 tbsp Good quality mayonnaise
Salad leaves
Nutritional Information
Per 100g
Per 1 serving
Energy

1812

436

Fat
28
of which saturates
6.5
Carbohydrate
2.1
of which sugars
0.2
of which polyols
0.1
Protein
40.2
Fibre
3.6
Salt
3.73
Net Carbohydrate
2
Method
Fry or grill the bacon until browned and crispy.
Spread mayo on each slice of bread
Layer the bacon, tomato and salad leaves on one slice of bread and top with the other.
Cut in half (triangles definitely taste best)
Enjoy!