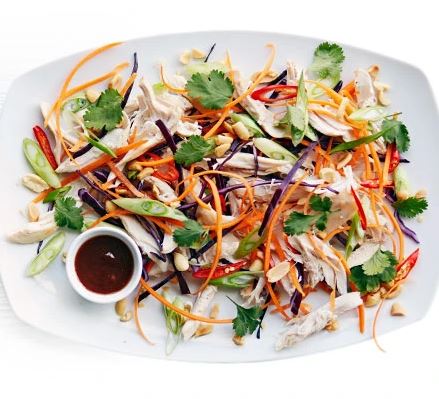 Net Carbs per serving
4 serves
prep time
cooking time
Quick and easy, and it tastes amazing with a hint of sweetness and some warmth from the chilli. The protein from the chicken also helps to keep you full. 
Ingredients
800g pre-roasted chicken meat, off the bone.
1/4 of a red cabbage
1/4 of a white cabbage
3 large carrots
6 spring onions
2 chillis
Large handful of fresh coriander
1 tsp coconut oil
For the dressing:
4 tbsp hoi sin sauce
3 tbsp sesame oil
1 tbsp light soy sauce
Nutritional Information
Per 100g
Per serving
Energy

374kJ

89kcal

1770kJ

421kcal

Fat
3.3g
16g
of which saturates
0.7g
3.5g
Carbohydrate
3.9g
18g
of which sugars
3.2g
15g
Protein
11g
51
Salt
0.32g
1.5g
Method
Mix together the dressing ingredients in a small bowl and set to one side.
Pull the chicken apart a little into long, thin strips. Heat the coconut oil in a non-stick pan and add the chicken, stirring occasionally. It's good to get some nice, crispy edges on the chicken.
While the chicken is cooking, add a grater attachment to a food processor and grate the carrot, red cabbage and white cabbage. Transfer to a large mixing bowl. If you don't have a food processor you can finely slice these ingredients but really, life is too short.
Finely slice the spring onions, chilli and coriander and add to the mixing bowl.
Once the chicken is cooked through, add it to the mixing bowl, add the dressing and give everything a good stir.
Serve straight away. The combination of hot chicken and cold crunchy veggies is just amazing!