Product Description
Pure Cheese Crisps with Organic Garlic & Oregano
Sweet garlic and bold cheddar taste, rounded off with a subtle hint of oregano.
Pure Cheese Crisps are not just low carb, they are gourmet.
Every disc meticulously crafted from the finest ingredients to provide you with a crunch so strong it's almost sharp and a tangy taste that coats the back of your throat in savoury satisfaction.
Feel full and smile like you had a cheese toasty or lovely Sunday roast, we promise you these snacks are addictive.
Packed with protein, low in carbs, MSG-free and gluten-free, Pure Cheese Crisps are as nutritious as they are delicious.
Ingredients & Allergens
Cheddar cheese (pasteurised cow's MILK, salt, vegetarian rennet, dairy cultures) & Certified organic spices (garlic, oregano).
For allergens see ingredients in bold.
Free from: colourings, preservatives, gluten, msg & gm.
How to Use & Storage
Store in a cool dry place, out of sunlight.
Nutritional Information
Per 100g
Per 32g serving
Energy

2147

515

687

165

Fat
33.4g
10.7g
of which saturates
25g
8g
Carbohydrate
4.3g
1.4g
of which sugars
0.1g
0g
Protein
48g
15g
Salt
3.4g
1.1g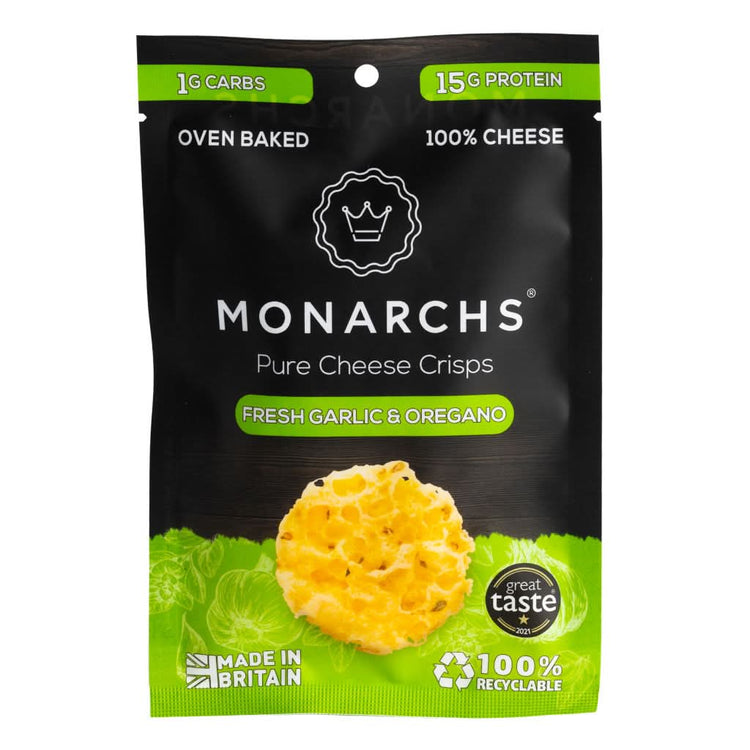 Great taste but could.have more quantity for the money
Fantastic crunch, great flavour
These are a great find, so much more satisfying than other cheese crisps.
Hardly Anything!
Very expensive for 6 crisps!
Very Nice
If you like the taste of baked mature cheese (the kind that falls onto the oven tray when your making something extra cheesy!), you will love these! very moreish
Delicious
Delicious - will be ordering more! :)