Product Description
These Low Carb Buttery Cookies are crunchy and…well, buttery. Plus, if you fancy, you can turn them choc chips quicker than you can say "Hands off they're mine!" (Makes 14 cookies)
Ingredients & Allergens
Almond Flour, Erythritol (natural sweetener, non GMO), Tapioca Starch, Baking Soda, Sea Salt.
How to Use & Storage
Store the mix in a cool, dry place.
To make the cookies, first, get your hands on:
80g of melted butter
1/2 tsp vanilla essence
For chocolate chip cookies:
10-15g 70% dark chocolate, finely chopped.
OK now…
Fire up the oven to 160°C. Cover a large baking tray with grease proof paper.
Tip mix in a bowl and combine melted butter (but not hot) and vanilla essence.
If adding chocolate, lightly knead in now.
Divide into 14 equal portions and roll into balls , place on grease proof paper with space between and flatten evenly to about 6cm wide and 1/2cm thick.
Bake for 7-9 minutes or until golden brown
Next, step away from the cookies, they need to cool down completely and set, or they will fall apart!
Keep in fridge for up to 7 days, room temp for 2 days or freeze for up to 3 months.
Nutritional Information
Per 100g
Per 10g serving
Energy

2400

573

408

97

Fat
53.6
9.1
of which saturates
20
3.4
Carbohydrate
10.1
1.7
of which sugars
2.2
0.4
Protein
9.8
1.7
Fibre
5
0.9
Salt
0.9
0.2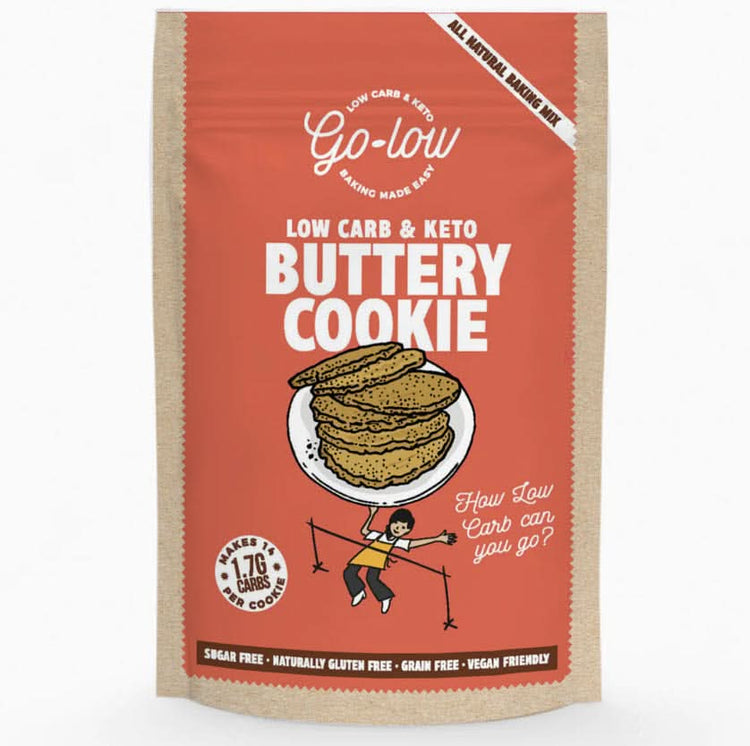 Nice biscuit
Quite buttery. Nice biscuit
Great
So tasty ate some of it raw haha
😆 yummy without the guilt
Thank you !
Yummy
Hit the spot, well worth the money
Look nice
I haven't made them yet, saving them for Christmas
Low Carb Cookie Mix
Loved the simplicity and what they tasted like - massive hit.