Product Description
Elevate your mealtime with our VEGAN SRSLY Low Carb Keto Friendly Wraps.
These protein-packed plant-based low carb keto wraps are a delicious and nutritious alternative to traditional bread wraps. Soft yet sturdy, they are perfect for holding your favorite fillings. Not only are these low carb wraps perfect for diabetics, they're ideal for buff gym bods as they're packed full of plant based protein!
Each delicious 8.5-inch wrap has a flavour that's a cross between wheat and white bread, and contains just 109 calories, 6.1g carbs, 13.6g protein and 6.2g fibre
With a pack size of 200g, you get 4 x 50g wraps to enjoy. For storage, simply check the date stamp on the pack for the best before date, and they are also freezer-friendly.
Freeze them on the day of purchase and consume within 1 month, defrost, and use within 24 hours. These wraps are the ideal addition to your kitchen for a wholesome and convenient meal solution.
Storage:  
Best before: Check date stamp on the pack.
Freezer-friendly: Freeze on the day of purchase, consume within 1 month. Defrost and use within 24 hours. Do not refreeze.
Ingredients & Allergens
Water, Pea Protein, Wheat Gluten, Bamboo Fibre, Wholemeal Wheat Flour, Rapeseed Oil, Salt, Thickening Agents (Xanthan Gum, Psyllium Husk, Sunflower Lecithin Powder, Rapeseed Lecithin Powder, Glycerol), Emulsifier (Mono and Diglycerides of Fatty Acids), Preservatives (Calcium Propionate, Acids: Sorbic, Citric, Malic & Tartaric), Natural Flavouring, Yeast.
Allergen Advice: For allergens, see ingredients in bold
How to Use & Storage
Store in a cool dry place away from direct sunlight. Suitable for home freezing. Freeze on the day of purchase and consumer within 1 month. Defrost and use within 24hours. Do no refreeze.
Nutritional Information
Per 100g
Per Per Wrap (50g) serving
Energy

914 KJ

218 kCal

457 KJ

109 kCal

Fat
4
2
of which saturates
1
0.5
Carbohydrate
12.1
6.1
of which sugars
2.7
1.4
of which polyols
0
0
Protein
27.1
13.6
Fibre
12.4
6.2
Salt
0.5
0.25
Net Carbohydrate
12.1
6.1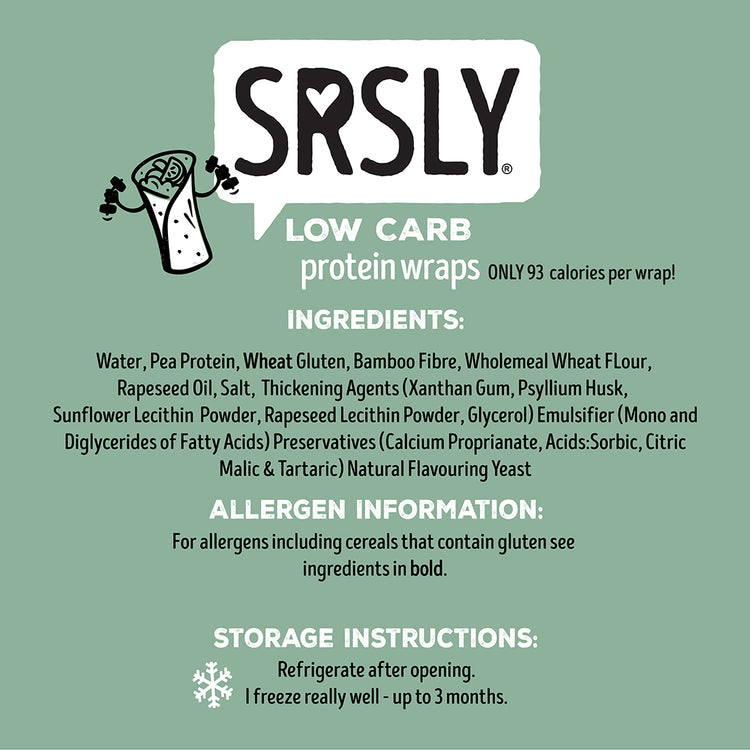 Good wraps
I like these wraps, they have a good flavour and don't fall apart.
These are amazing, can't tell the difference between these and normal wraps. Even converted my husband to them
Excellent!
Absolutely superb! Frozen them, defrosted them and were still superb. Quite thin but did the trick for fajitas. Lovely. Not cheap so wouldn't use them for folks the don't need to watch their carbs level. But 100% worth it especially if diabetic as you don't get the spike like with others.
Fab
These are so nice and fluffy and light
SRSLY Low Carb Protein Wraps
AWESOME Wraps, Steak, chicken, and vegetable curry wraps are staple foods for me, and these wraps are the best low-carb on the market. I've tried quite a few from different suppliers, and I've even had a go at making my own without much success.
Thanks, SRSLY Low Carb, for making my keto diet easier to navigate.