Product Description
Elevate Your Low Carb Lifestyle with SRSLY Low Carb Keto Artisan Seeded Bread.
For bread lovers on a low-carb journey, we've got the perfect solution. Our 320g SRSLY Low Carb Keto Artisan Seeded Bread offers the classic taste and texture of standard bread, now with the goodness of seeds.
Key Highlights:
Incredible Carb Reduction: Standard bread typically packs 45-55g of carbs per 100g, but our Seriously Low Carb Seeded Loaf contains just 5.9g of net carbs per 100g, making two slices a mere 2.2g of net carbs. The ultimate choice for your favorite sandwich!
Certified Low Sugar: Our bread is certified by Sugarwise as being low in sugar, ensuring a health-conscious choice.
Nutrient-Rich: Crafted with natural, wholesome ingredients, our loaf is a testament to real, nutritious food. We've worked diligently to make it a healthy addition to your diet.
Indulge in a loaf that's not just low carb but also irresistibly tasty and nutritious. Enjoy the texture and bounce of standard bread while staying true to your low-carb lifestyle. It's time to relish your favorite sandwiches and rediscover the joy of cheese on toast. SRSLY Low Carb Seeded Loaf is your key to satisfaction without compromise.
Ingredients & Allergens
Ingredients: Water, Wheat Gluten, Mix Seeds (18%) (Sesame, Black Sesame, Linseed, Golden Linseed), Egg, Brown Flaxseed, Oat Fibre, Rapeseed Oil, Wheat Flour (with Calcium, Iron, Niacin, Thiamin), Yeast, Invert Sugar Syrup, Salt, Thickener: Xanthan Gum, Sweetener: Erythritol, Flour Treatment Agent: Ascorbic Acid, Preservative: Calcium Propionate.
Allergen Advice: for allergens including cereals that contain gluten see ingredients in bold.
May contain traces of Sesame, Lupin and Mustard. This product is not suitable for Milk, Soya and Rye allergy sufferers
How to Use & Storage
To keep me at my best, store me in the fridge as soon as you get me home. For best before: see date stamp on product. I freeze really well - up to 3 months. Under warm conditions, life may be reduced.
Nutritional Information
Per 100g
Per Slice serving
Energy

1347

317

242

57

Fat
18g
3.2g
of which saturates
2.2g
0.4g
Carbohydrate
6.2g
1.1g
of which sugars
1g
0.2g
of which polyols
0.3g
0.06g
Protein
25g
4.5g
Fibre
11.4g
2.1g
Salt
0.91g
0.16g
Net Carbohydrate
5.9g
1.1g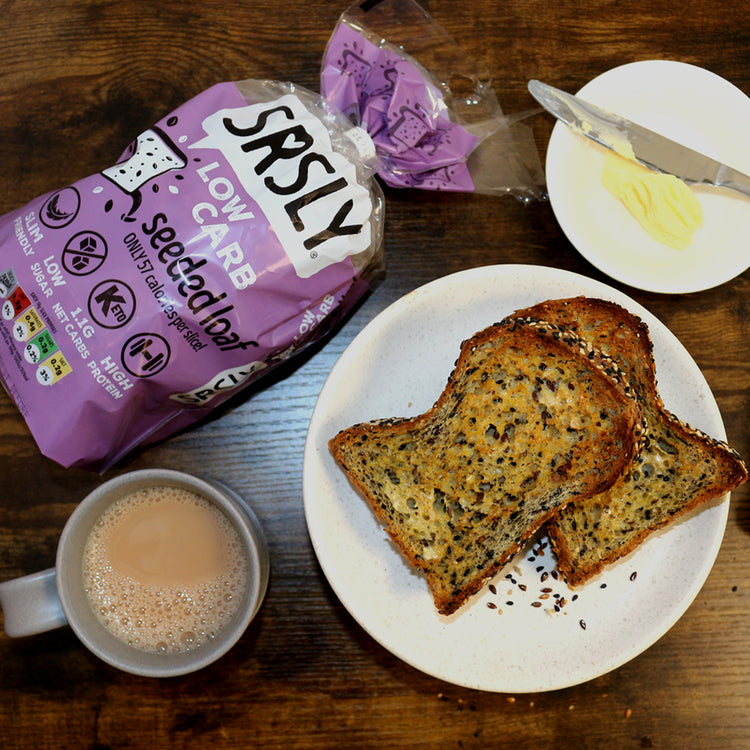 Ok
Should have ordered "sliced" and too expensive anyway
Nice flavour and texture but too difficult to cut.
Wonderful. Uncut seeded loaf
I knew as soon as this product was announced that it would be my favourite SRSLYlowcarb item,
I find living in a keto diet state manageable if once in a while.i have a bread substitute, I really like the other loaf but I don't like thin bread ha ha so this product is amazing for me, I cut the loaf into 9 thick slices and freeze it, it's amazing and tastes beautiful toasted or just with butter next to soup. I love it
Obsessed! Can not get enough!