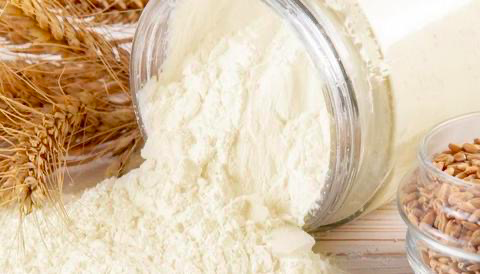 A baking superhero
Vital wheat gluten is an absolute superhero in the kitchen. You may have never heard of it before, but its a strong and mighty flour that can have great effects on your baking, especially if you're into low carb baking.
So what is vital wheat gluten?
Vital wheat gluten is a super powered flour that is all gluten and very little starch.  It's not technically flour itself, but it's made from wheat flour that has been hydrated to activate the gluten and then processed to remove everything but the gluten. It's then dried and ground back into a powder. 
This powder is really high in protein, weighing in at an amazing 80g of protein per 100g. It's also very low in fat and, most importantly, low in carbs!
How to use Vital Wheat Gluten?
This brilliant powder is definitely worth having in your kitchen as it has so many uses.
Improved bread baking
If you're into baking, vital wheat gluten can really improve your home baked breads and loaves. It can magically turn a basic flour into a top quality, premium flour. It's particularly amazing because it can turn basic plain flour into bread flour - just add 1 tablespoon of vital wheat gluten for every 250g of plain flour, and it'll bake just like bread flour. 
And because it adds that extra protein, it's perfect for giving heavier loaves a bit of a boost so you can improve the bounce and texture of your low protein loaves like wholemeal and rye.
It will also give a great texture to tea loaves, fruited loaves and anything with seeds and flavourings that make your normal loaf a bit denser. It also adds the protein you need for speciality breads made with high protein flour - if you want to make bagels at home, you need to get yourself some vital wheat gluten! 
Improved Low Carb and Keto baking 
If, like us, you love a bit of low carb baking, vital wheat gluten is going to be your best friend. Just like with normal baking, it can add some bounce and elasticity to your low carb baking, which makes for a texture that is much closer to standard cakes, biscuits and breads. 
You don't need to add much, but try adding a teaspoon or two to your next low carb bake and see what results you get. We swear by it in the Keeto Kitchen. 
A brilliant binding agent 
If you're making crumbly things, like chick pea or mushroom burgers, meatballs,  fishcakes or anything else that needs to stick together but sometimes doesn't, vital wheat gluten makes a brilliant binding agent. 
Add a teaspoon or two to your mix, and you'll find that it will all bind together far better and hold together - no more meatballs falling apart in the pan! 
Make your own Seitan 
By adding water, herbs and spices to vital wheat gluten you can make your own meat substitute, so if you're low carb and vegetarian or vegan, this can be a great go-to for you.
So, vital wheat gluten is a fabulous thing to have in your kitchen. You can use it for so many things and, most importantly, it'll make your low carb and keto cooking even better.