Product Description
Our new range of Vegan, Keto Friendly, low calorie, flavour packed ready meals are the perfect choice for those watching their sugar, calorie, or carb intake. 
With a clever blend of low carb noodles, soy sauce, vegetables and plant based Chick'n, you'll not only feel like you've had a delicious meal, you'll also feel full. And to top all that, this meal contains just 16g carbs and 285 calories per portion.
So what makes our noodles slim friendly and how are they different from traditional noodles?   

The noodles in our ready meals are made from a low-carb, low-calorie plant based flour called Glucomannan which has been extracted from the root of the Konjac yam plant. This type of noodle is popular in Asian cuisine and is gaining popularity in Western countries as a healthy alternative to traditional high-carb, high-calorie, wheat based noodles.
We're aware that some Konjac Glucomannan based products have an off-putting smell, are rubbery or watery. Not ours though. We've spent a lot of time developing a recipe that eliminates these issues to give a real noodle like texture, no wateriness and no unpleasant smell. 
Another benefit of the noodles found in our ready meals is that they have a very low glycemic index, making them a good option for people with diabetes or those following a low-carb or low sugar lifestyle. They are also extremely low calorie, gluten-free and contain no fat, sugar, or cholesterol. 
They can also be a smart choice for anyone who is trying to manage their cholesterol levels as 4g per day contributes to the maintenance of normal blood cholesterol levels. 
Glucomannan has been approved as an effective weight loss ingredient by some major regulatory agencies such as the European Food Safety Authority (EFSA), which has approved its use for weight loss claims when consumed as part of a calorie-controlled diet. This is because not only is it very low in calories itself, when consumed, it absorbs water in the digestive tract which can help you feel full and satisfied, which can subsequently help to reduce your overall calorie intake.
It's important to note that Konjac noodles should not be the only source of nutrition in a person's diet. It's recommended to pair them with other nutrient-dense foods to ensure a well-balanced diet.
Ingredients & Allergens
Konjac Noodles (Water, Tapioca Starch, Konjac Flour, Carob bean gum, Beta Carotene), Red Pepper, Carrot, Mushroom, Broccoli, Texturized Pea Protein (Organic Pea Protein Concentrate, Organic Faba Protein Concentrate, Salt), Spring Onion, Water, Light SOY Sauce (Water, Salt, SOYBEAN, WHEAT flour), Dark SOY Sauce (Water, Salt, Colour E150a, Sugar, SOYBEAN, WHEAT flour), White Rice Vinegar, SESAME Oil, Garlic, Ginger, Better than Sugar® (Allulose), White Pepper
How to Use & Storage
Store me in the fridge, for up to 30 days. DO NOT REFREEZE
Nutritional Information
Per 100g
Per 370g serving
Energy

321

77

1190

284

Fat
2.88
10.66
of which saturates
0.46
1.70
Carbohydrate
4.35
16.09
of which sugars
2.02
7.48
Protein
3.36
12.42
Fibre
2.43
9
Salt
1.04
3.85
Net Carbohydrate
4.4
16.1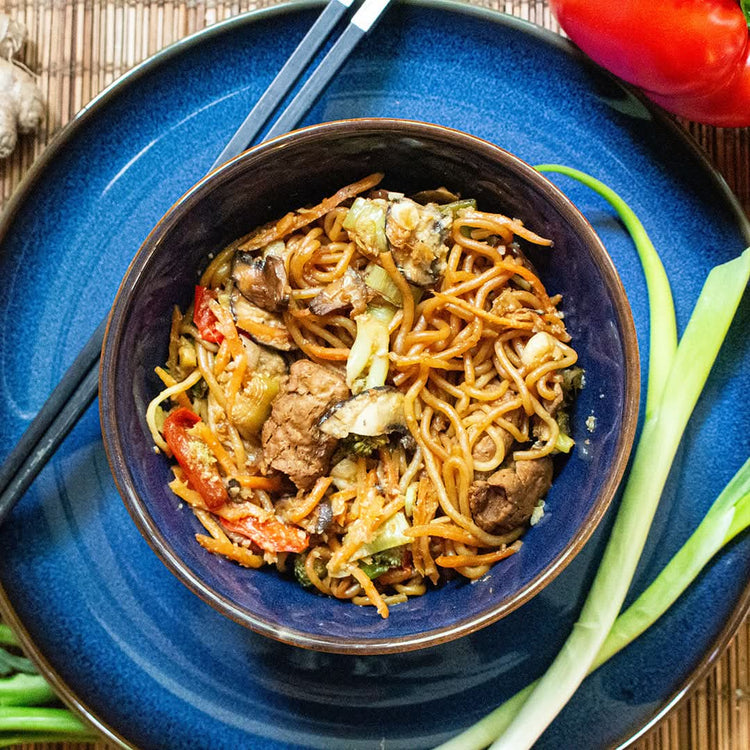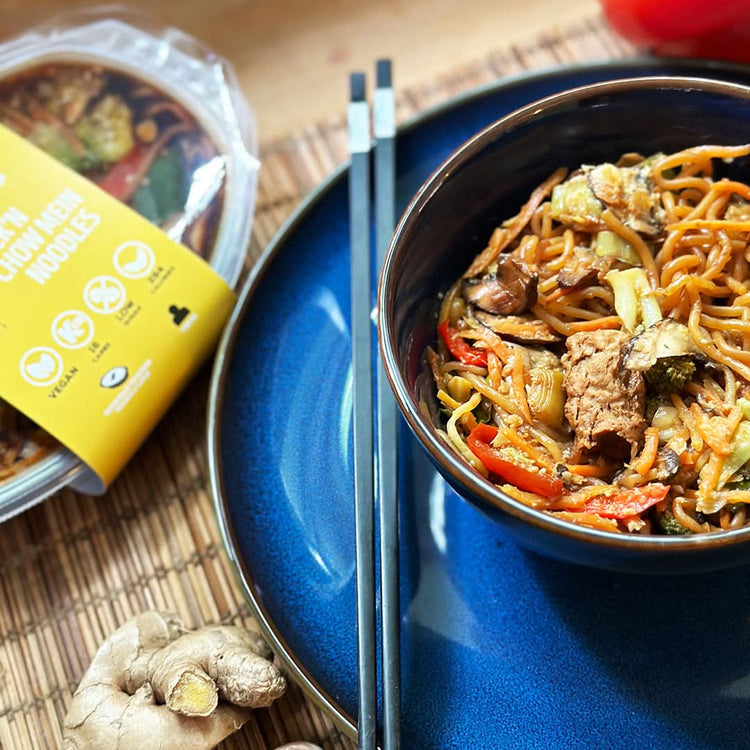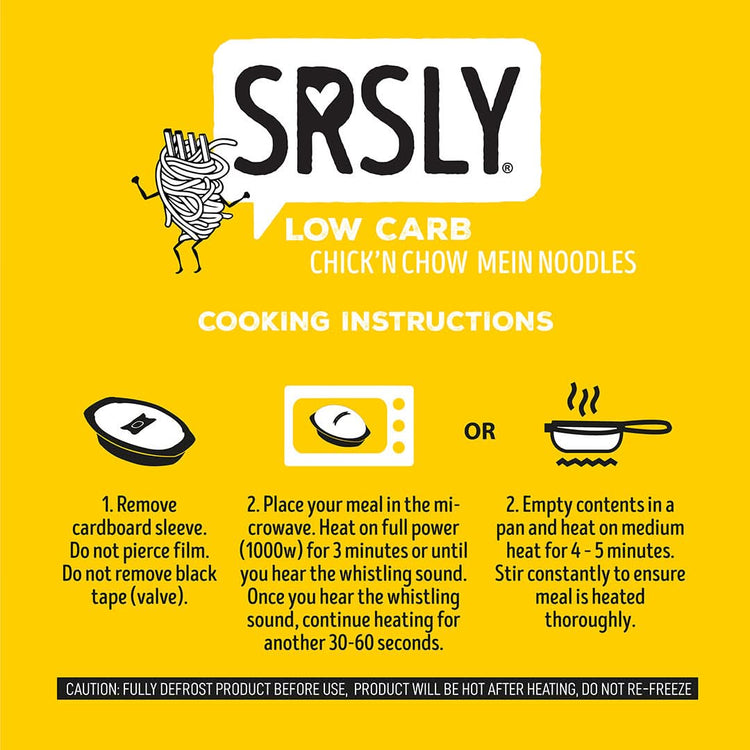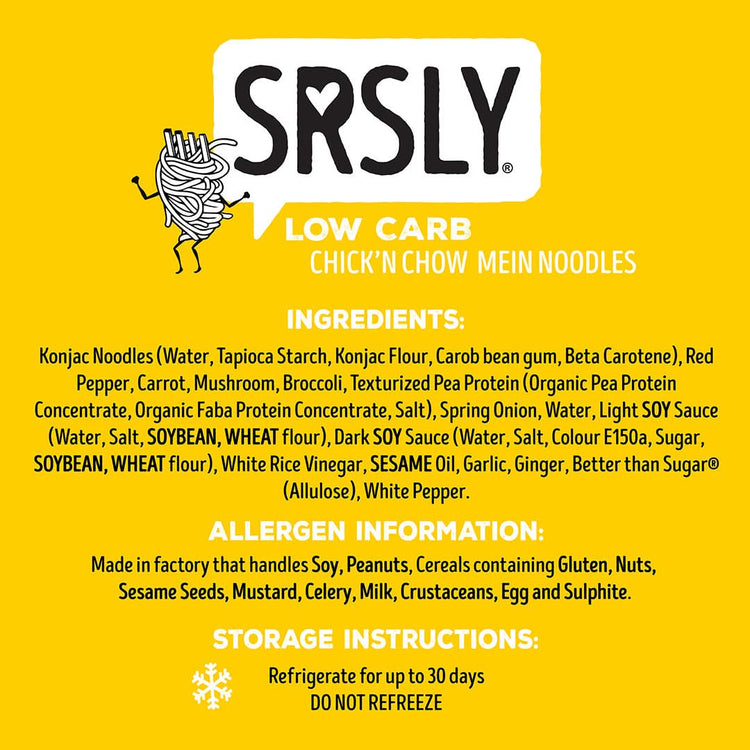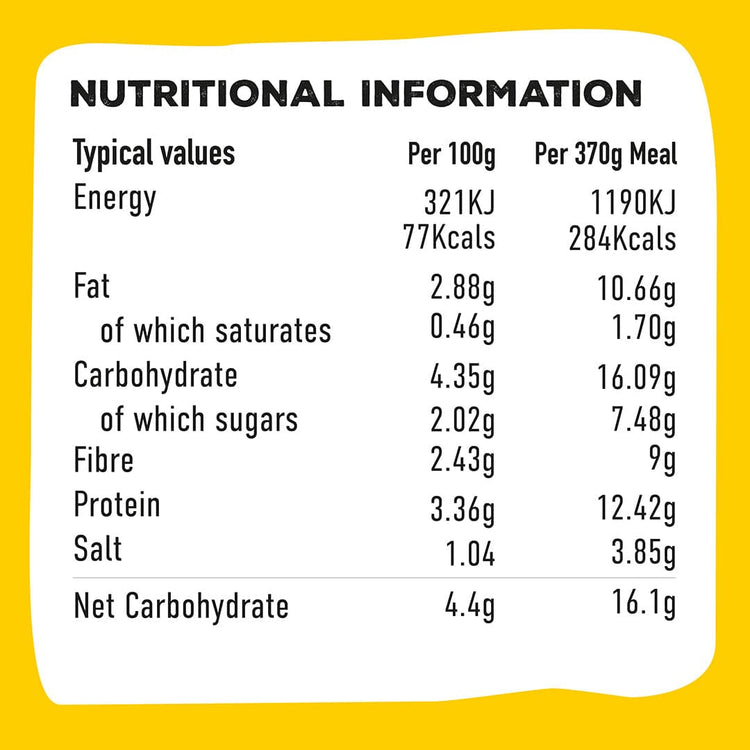 Nice!
I had this for lunch today and thought it was very tasty. The only down side is that there's not a lot and I'm still hungry!
Enjoyed this
Enjoyed this with the addition of some Sriracha sauce. The noodles were a good texture and not "gluggy".
Tasty but Watery
Low Carb Chicken Chow Mein
Although the flavour was delicious I found the chicken oddly squishy, the broccoli was mushy and there was a sea of liquid which was not absorbed by the noodles. Overall I won't buy this again as it is quite pricey and missed the mark for me
Low Carb Chicken Chow Mein
Although the flavour was delicious I found the chicken oddly squishy, the broccoli was mushy and there was a sea of liquid which was not absorbed by the noodles. Overall I won't buy this again as it is quite pricey and missed the mark for me
Chow mein
Loved the whole thing, except the
No chicken stuff 🥺
I took that stuff out and added,
Real chicken and mushrooms, also more sauce. So didn't waste it.
But would not buy it again