Product Description
Indulge in Your Love for Bread without the Carb Guilt with our SRSLY Low carb keto bread
Discover the ultimate solution to satisfy your bread cravings while maintaining a low carb lifestyle. At SRSLY Low Carb, we understand the struggle of balancing your love for bread with the desire to cut carbs. That's why we've created an innovative Low carb keto bread that not only looks and tastes like traditional bread but also aligns perfectly with your low carb diet.
Our remarkable SRSLY Low Carb Keto Bread!
Say goodbye to carb-heavy bread with 45-55g of carbs per 100g becasue SRSLY Low carb keto bread boasts an astonishingly low 3.3g of net carbs per 100g. In practical terms, two slices of our bread contain just 1.4g of carbs. Picture your favorite sandwich, now without the carb overload! With a generous 290g loaf, you'll have countless opportunities to enjoy delicious sandwiches without worrying about excess carbs.
Our diabetic friendly bread is also certified by Sugarwise because commitment to quality extends beyond just carbs.
Our bread is proudly certified by Sugarwise as low sugar. We've worked diligently to ensure our bread is not only low carb diabetic friendly but also healthy and nutritious and crafted with carefully selected natural and wholesome ingredients meaning you can trust that you're indulging in real, wholesome food. A Perfect Blend of Low Carb, Taste, and Nutrition!
SRSLY Low Carb Bread Loaf checks all the boxes:
It's low in carbs,

High in protein,

High in fibre,

Irresistibly tasty,

Loaded with essential nutrients.

Plus, it replicates the texture and bounce of traditional bread flawlessly.
What's not to love? It's time to bring your favorite sandwiches back into your life, and even enjoy that delectable cheese on toast because our low carb loaf is the perfect match for your low carb lifestyle!
Ingredients & Allergens
Ingredients: Water, Wheat Gluten, Egg, Brown Flaxseed, Oat Fibre, Rapeseed Oil, Wheat Flour (with Calcium, Iron, Niacin, Thiamin),Yeast, Invert Sugar Syrup, Salt, Thickener: Xanthan Gum, Sweetener: Erythritol, Flour Treatment Agent: Ascorbic Acid, Preservative: Calcium Propionate.
Allergen Advice: for allergens including cereals that contain gluten see ingredients in bold.
May contain traces of Sesame, Lupin and Mustard. This product is not suitable for Milk, Soya and Rye allergy sufferers
How to Use & Storage
To keep me at my best, store me in the fridge as soon as you get me home. For best before: see date stamp on product I freeze really well - up to 3 months Under warm conditions, life may be reduced.
Nutritional Information
Per 100g
Per Slice serving
Energy

897 KJ

216 KCal

179 KJ

43 KCal

Fat
9g
1.8g
of which saturates
1g
0.2g
Carbohydrate
3.6g
0.7g
of which sugars
0.9g
0.2g
of which polyols
0.3g
0.0g
Protein
22.2g
4.4g
Fibre
14.8g
3g
Salt
0.92g
0.2g
Net Carbohydrate
3.3g
0.7g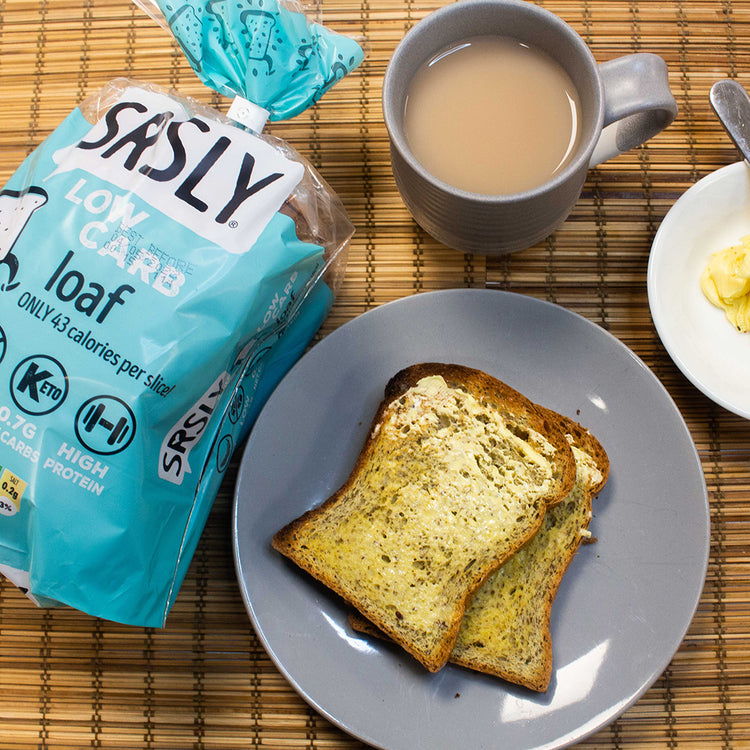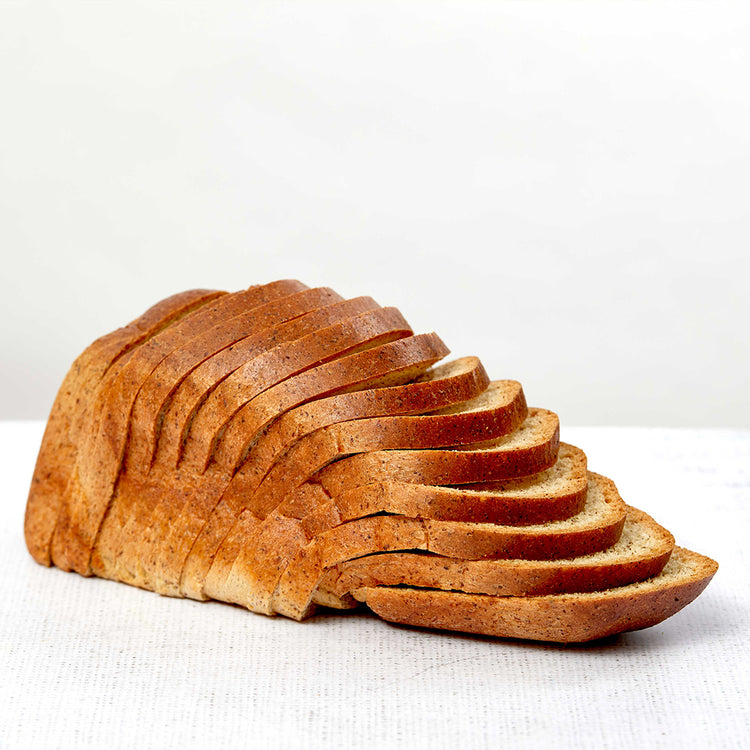 PRODUCT BENEFITS
Our amazing Seriously Low Carb Loaf has a fraction of the carbs. Standard bread is 45-55g of carbs per 100g. Our Seriously Low Carb bread has just 3.3g of net carbs per 100g, which means that two slices of our bread are 1.4g of carbs. Perfect for your favourite sandwich! And at 290g, that's a whole lot of sandwiches for not many carbs.



HOW TO USE PRODUCT?
You can show your customer how they can use this product during a certain time of day. Just as important is pointing out if a product can or should be used every day or year-round, as that will speak to its long-term value.
SEE OUR PRODUCT
Better you should train your beautiful customers that the best way to apply the products on their skin, effectively they will remember how to use it and maybe return to your website to find useful content.
FREQUENTLY BOUGHT TOGETHER
SUBCRIBE FOR NEWSLETTER
Shop today with 15% OFF your first order of all products storewide
Love Hate Relationship
I am still undecided about this bread due to its texture. I have only had one loaf so far and my theory is the more times I have it the more the texture will become normal to me. I would wholeheartedly say give it a try and I will definitely be buying another loaf. I've had cheese on toast, pate on toast, peanut butter on toast and a chicken sandwich all with this loaf and am hoping I just get used to the texture.
I'm back
I left seriously low carb for a while and tried heylo low carb bread,and that was fine for a while but for some reason it started to have an unpleasant taste,so I reverted back to seriously and I have to say the grass isn't greener on the other side seriously beats it by far in my opinion so ordered more to keep in the freezer I'm sticking to this from now on
Fabulous!! Great for toast, sandwiches, garlic bread
Great improvement
Great improvement with taste and texture and yeah it toast's 😀
Amazing! I'll buy it again.