Product Description
Pure Cheese Crisps with Organic Chilli & Herbs
A fusion of delicate, earthy herbs and peppery white cheddar, followed by a tingling explosion of cayenne heat.
Spiciness level: between mild and hot 🌶
Pure Cheese Crisps are not just low carb, they are gourmet.
Every disc meticulously crafted from the finest ingredients to provide you with a crunch so strong it's almost sharp and a tangy taste that coats the back of your throat in savoury satisfaction.
Feel full and smile like you had a cheese toasty or lovely Sunday roast, we promise you these snacks are addictive.
Packed with protein, low in carbs, MSG-free and gluten-free, Pure Cheese Crisps are as nutritious as they are delicious.
Ingredients & Allergens
Cheddar cheese (pasteurised cow's MILK, salt, vegetarian rennet, dairy cultures) & Certified organic spices (chilli, garlic, rosemary).
For allergens see ingredients in bold.
Free from: colourings, preservatives, gluten, msg & gm.
How to Use & Storage
Store in a cool dry place, out of sunlight.
Nutritional Information
Per 100g
Per 32g serving
Energy

2147

516

687

165

Fat
33.8g
10.8g
of which saturates
24.5g
7.8g
Carbohydrate
4g
1.3g
of which sugars
0.1g
0g
Protein
47g
15g
Salt
3.6g
1.1g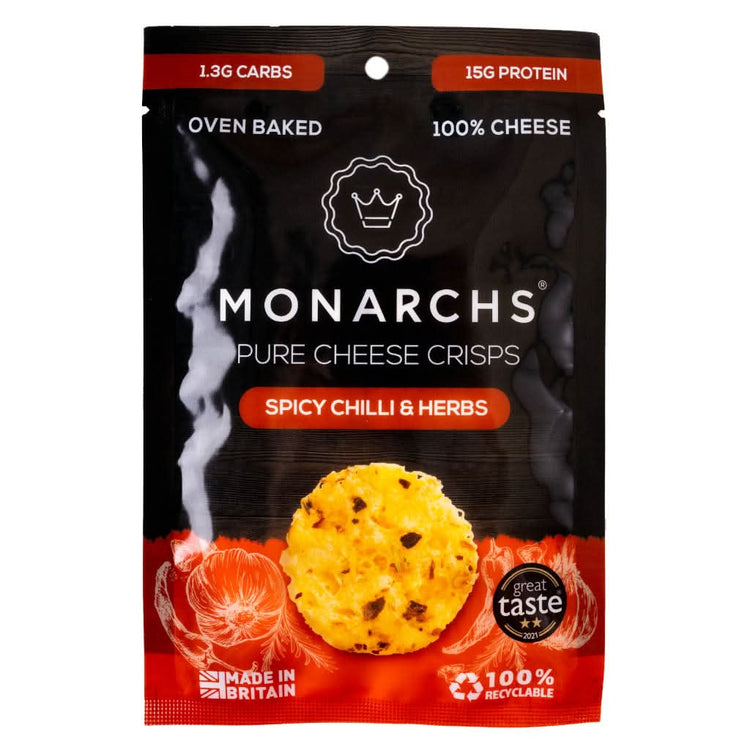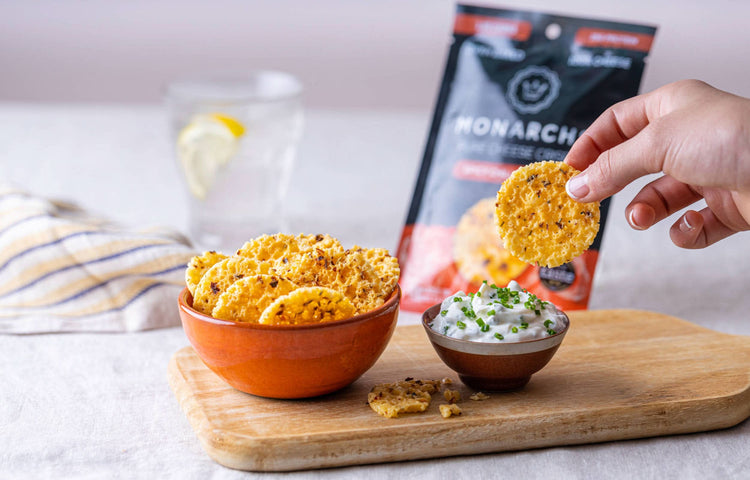 Try them topped chopped pickled onions
Tasty and very cheesy and great snack on their own. Also nice topped with chopped pickled onions as part of a parma ham/prosciutto type platter with olives etc
Way Too Salty To Enjoy ( The "crisps"....not the reviewer! :P )
Delivery / packaging and price were all great, but it just comes down to the product. Somehow every flavour of these I tried have ended in the same decision "I can't finish the whole bag"....which is only about 8-10 "crisps" I get through 2 or 3 and it's just unbelievably salty and I can't / don't want to finish them. Just trying to leave an honest review, as I was excited to try something "crispy" but I'd recommend anyone on Keto swerving these and just going for pork crackling/rinds/pork puffs etc. instead.
Excellent tasty snack
Satisfying and tasty snack. Goes very well with wine
Great taste
I have these as crisps and I then don't feel like I'm missing out
Different!
Definitely NOT a crisp! about 5 small thick round crispy cheese bites which I liked ( cheese lover ) however a very small bag and very expensive - due to the cost and the amount in bag, I will not buy again.