Product Description
We love bread, but we also eat low carb...... We couldn't find anything that curbed our bready-cravings so we created something that feels and tastes like standard bread, with the carb levels to suit our low carb lifestyles. 

Our amazing Seriously Low Carb Loaf has a fraction of the carbs. Standard bread is 45-55g of carbs per 100g. Our Seriously Low Carb bread has just 3.3g of net carbs per 100g, which means that two slices of our bread are 1.4g of carbs. Perfect for your favourite sandwich! And at 290g, that's a whole lot of sandwiches for not many carbs.
And our bread has been certified by Sugarwise as being low sugar! 
We've also worked hard to make sure that our bread is healthy and nutritious. Our loaf is made with carefully-chosen natural, wholesome ingredients so you know it's good for you. It's real food. 

So, it's low carb. It's tasty and nutritious. And it has all of the texture and bounce of standard bread. What's not to love? It's time to get your favourite sandwich back on the menu! Break out the cheese on toast! Because our low carb loaf works for your low carb lifestyle. 

We're incredibly proud of our bread. It really is the best thing since, well, don't make us have to say it….. 

Just so that you know, we don't post bread out on Saturdays or Sundays. Sometimes they get stuck in a sorting depot over the weekend, and that makes our loaves a bit sad. We want happy loaves winging their way to you, so if you would like your loaf for the weekend, please order by 10 am on a Thursday. 
*Any subscriptions to this product made during a sale or discount event will be invalid*


Ingredients & Allergens
Ingredients: Water, Wheat Gluten, Egg, Brown Flaxseed, Oat Fibre, Rapeseed Oil, Wheat Flour (with Calcium, Iron, Niacin, Thiamin),Yeast, Invert Sugar Syrup, Salt, Thickener: Xanthan Gum, Sweetener: Erythritol, Flour Treatment Agent: Ascorbic Acid, Preservative: Calcium Propionate.
Allergen Advice: for allergens including cereals that contain gluten see ingredients in bold.
May contain traces of Sesame, Lupin and Mustard. This product is not suitable for Milk, Soya and Rye allergy sufferers
How to Use & Storage
To keep me at my best, store me in the fridge as soon as you get me home. For best before: see date stamp on product I freeze really well - up to 3 months Under warm conditions, life may be reduced.
Nutritional Information
Per 100g
Per Slice serving
Energy

897 KJ

216 KCal

179 KJ

43 KCal

Fat
9g
1.8g
of which saturates
1g
0.2g
Carbohydrate
3.6g
0.7g
of which sugars
0.9g
0.2g
of which polyols
0.3g
0.0g
Protein
22.2g
4.4g
Fibre
14.8g
3g
Salt
0.92g
0.2g
Net Carbohydrate
3.3g
0.7g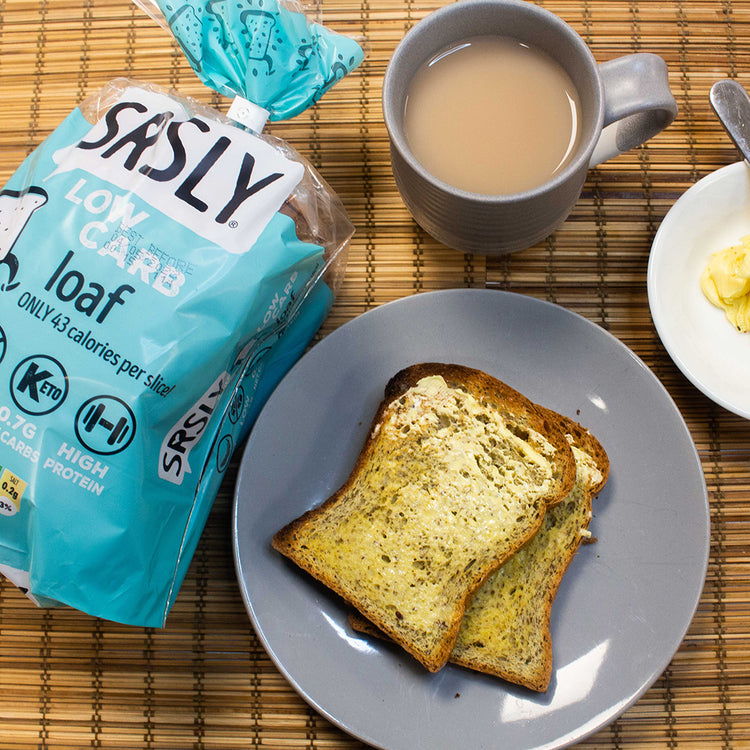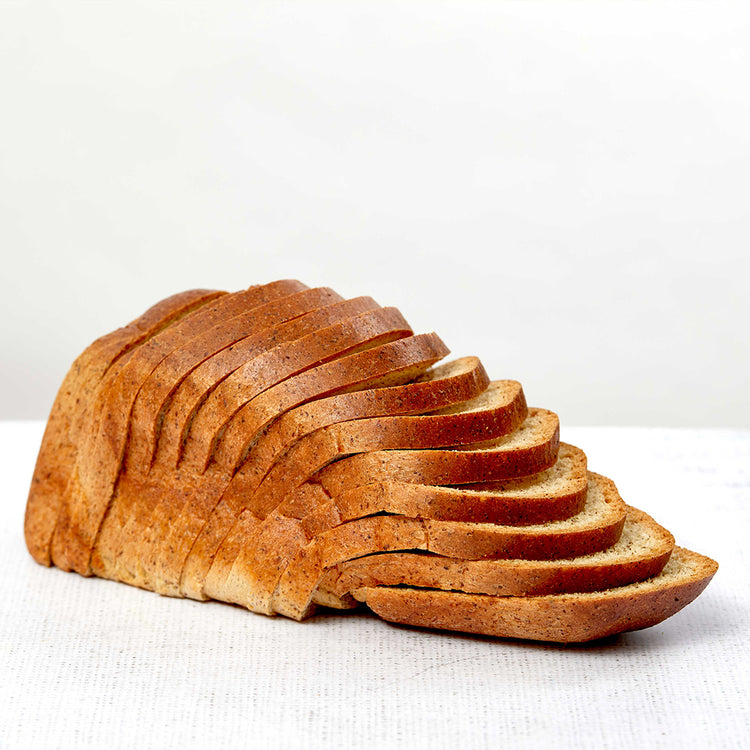 game changer
I love bread and been on a low carb diet for a while now but really missed bread until I found the SRSLY low carb loaf it is so tasty and I absolutely love it! Tasty and I do not have to do without my bacon butty anymore!! I have subscribe and save so I get it delivered every three weeks and keep in my freezer and take it out when I want some - subscribe and save this makes it cheaper too so win win
Wow - tastes like bread!
After three weeks of having no bread products at all it was great to be able to have a proper taste of bread, butter and marmite. Thanks, Srsly!
Best keto bread ever
I've purchased my first loaf yesterday and omg it's so delicious is unreal. I thought I will only eat bread on my cheat days but this one is so yummy and I can have it every day! I had bacon sandwich, egg sandwich and they were so good.
I'm very happy with my purchase and will be ordering more DEFINITELY
Love this!
I great way for dieters and diabetics to get their toast fix. I love the taste and the fact I can freeze the loaf and not waste any. Fab with soup in the winter.
Really filling
These buns are huge, tasty and very filling. Great way to get your bread fix without worrying about carbs. They freeze well too.