Product Description
Perfect for those looking to turn up the heat a little, these remarkably fresh and flavoursome Habanero Cracklings are a nutritious, delicious, sensory sensation. Hearty, crispy and with just enough punch to make you snout out loud... "OH MY HOG!"
Ingredients & Allergens
Pork Rinds, Salt, Chilli Powder (Contains: Spices, Salt, Garlic, Herbs), Flavour Enhancer E621, Dextrose, Habanero Chilli Powder, Red Pepper, Cumin, Hydrolysed Vegetable Protein, Vegetable Oil, Acidity Regulator E262 (ii), Spice Extract, Paprika Extract.
How to Use & Storage
Store in a cool dry place.
Nutritional Information
Per 100g
Per 30g serving
Energy

2551

614

637.8

153.5

Fat
49.4
12.3
of which saturates
17.2
4.3
Carbohydrate
2.4
<1
of which sugars
<1
<1
Protein
41.2
10.3
Salt
2.3
<1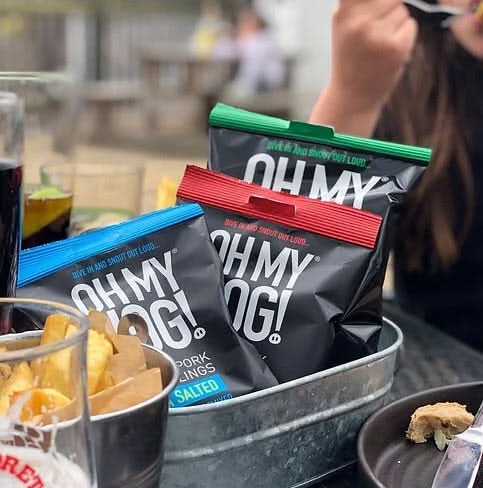 Very spicy
Very spicy and very moreish too spicy for me but my husband loved them
Great for healthy snacking
Lovely snack, very spicy hot jalapeños
Yum
Perfect low carb treat, spicy! But delish
Oh My Hog! Habanero Crackling
Delicious
Delicious indeed, the packaging is also very good. Flavouring is subtle and not overpowering.