Product Description
Pure Cheese Crisps made from British Mature Cheddar
Richly intense flavour complimented by a pleasing white cheddar aftertaste.
Pure Cheese Crisps are not just low carb, they are gourmet.
Every disc meticulously crafted from the finest ingredients to provide you with a crunch so strong it's almost sharp and a tangy taste that coats the back of your throat in savoury satisfaction.
Feel full and smile like you had a cheese toasty or lovely Sunday roast, we promise you these snacks are addictive.
Packed with protein, low in carbs, MSG-free and gluten-free, Pure Cheese Crisps are as nutritious as they are delicious.
Ingredients & Allergens
List of ingredients:
Cheddar cheese (pasteurised cow's MILK, salt, vegetarian rennet, dairy cultures) & Certified organic spices (chilli, garlic, rosemary).
For allergens see ingredients in bold.
Free from: colourings, preservatives, gluten, msg & gm.
How to Use & Storage
Store in a cool dry place, out of sunlight.
Nutritional Information
Per 100g
Per 32g serving
Energy

2152

517

689

165

Fat
34g
10.9g
of which saturates
25.5g
8.2g
Carbohydrate
2.4g
0.8g
of which sugars
0.1g
0g
Protein
50g
16g
Salt
3.3g
1.1g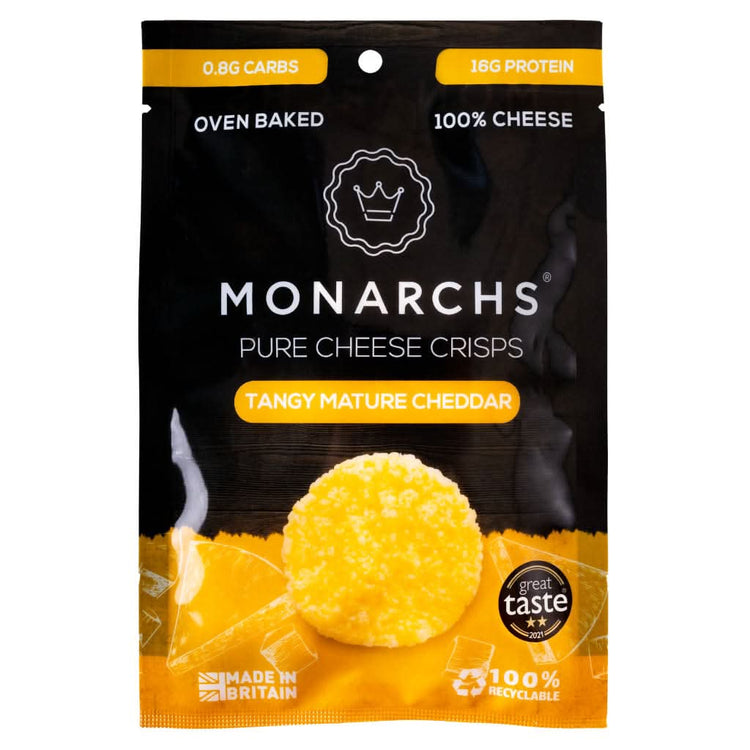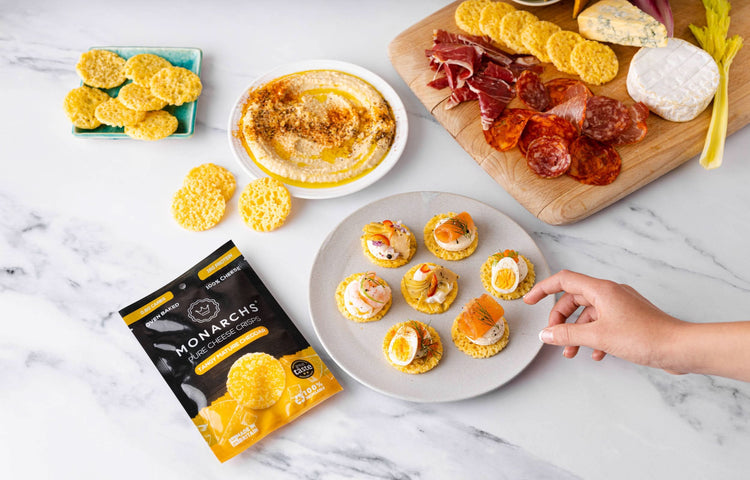 You won't taste better!
Really strong cheese flavour. Absolutely delicious.
Cheese crisps
So wanted to like these as had been craving crisps. Taste too overpowering needs onion to balance it
Disappointed!
My first mistake was not reading the description correctly regarding the size of the packet, outrageous price for the size, that alone will ensure I don't buy them again.
Crisp - okay, but, a bit of aftertaste.
Definitely not value for money.
Disgusting
I was shocked how very small the packet was I wouldn't have ordered amd they were vile
Rather overpowering flavour
When they first go into your mouth they taste great, but within seconds it's as though you've taken a sledgehammer to your taste buds. Have tried these with every member of the family and not a single person has managed to eat an entire cheese circle. And we are all the type of cheese fiends to bicker over the who gets the cheesiest, crispiest bit of the mac n cheese. These are a serious fail in our household :(